11 Giugno 2021
Posted by:

PIARC Italia

Categoria:

Notizie
New European Initiatives to Explore Galileo Integrity for Autonomous Applications
For autonomous transport to become a reality, its operations must be at least as safe as existing ones. The European Commission's Directorate-General for Defence Industry and Space (DG-DEFIS) has awarded mission evolution studies to assess how the future evolution of European GNSS (EGNSS) could be beneficial for innovative and demanding autonomous applications. The new service contract will assess the feasibility of an integrity service complementing EGNSS High Accuracy in the 2030+ timeframe on top of the current baseline of EGNSS services to feed the evolving needs in autonomous transport.
Locomation and PGT Trucking Inc. Agree To Deploy Autonomous Relay Convoy
Locomation, the world's first technology platform to offer human-guided autonomous truck convoying, today announced a multi-year agreement with PGT Trucking Inc., a leader in flatbed transportation, to deploy Locomation autonomous truck technology for use on PGT Trucking routes.
J.B. Hunt Transport Services Inc. (NASDAQ: JBHT)will test high-autonomy software from Waymo Via on a leading customer route from Houston to Fort Worth, Texas, where robot truck evaluations are making up a greater portion of Lone Star State traffic.
Motorists near the trucks on Interstate 45 might notice an array of sensors, cameras and spinning light-detecting radars affixed to the semi tractors. Or they could be oblivious because both driver and passenger seats are occupied by humans — for now.
https://www.itsinternational.com/its4/its5/its7/news/innoviz-and-cron-ai-link-v2x 
Lidar specialist Innoviz Technologies has partnered with Cron AI to target the ITS, Vehicle to Everything (V2X) and Smart Cities markets.
The companies will seek to speed the take-up of the InnovizOne Lidar sensor and Cron AI's SenseEdge edge computing platform, which the companies say is well placed to "exploit the unique features of InnovizOne to make better use of its sensor and scanning resources".
https://www.iotm2mcouncil.org/iot-library/news/connected-transportation-news/vodafone-launches-uks-first-c-v2x-road-safety-system/
A new mobility cloud platform to improve the safety of road users developed by Vodafone, Nokia and Chordant is being tested on public roads in the UK. The platform will connect vehicles, cyclists, pedestrians and infrastructure.
Supported by the UK Government Centre for Connected and Automated Vehicles (CCAV) and the Midlands Future Mobility (MFM) consortium, the platform is providing digitally connected road users in the English West Midlands with live, localised and targeted updates from road operators on lane closures, speed restrictions and traffic incidents.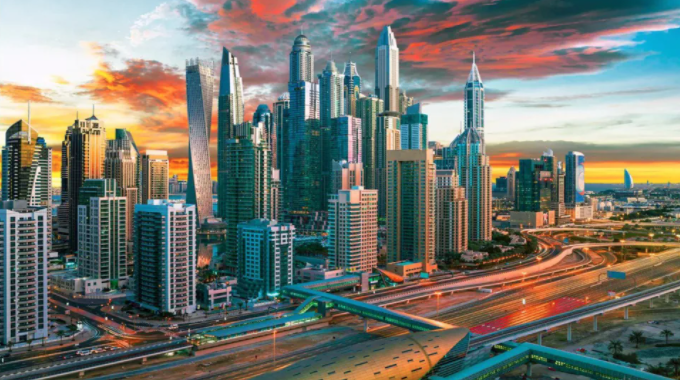 https://www.omnesmedia.com/en/media-news/before-flying-cabs-dubais-commuters-may-get-sky-pods-to-glide-over-traffic
On the road to become a city of the future, Dubai has consistently brought tools for a tech-powered public infrastructure on board. The city's transport authority which has been working on rolling out driverless buses, has also introduced AI to map out routes that help shuttles avoid traffic.
After establishing a metro rail network where commuters can even get smart assistance for a quick commute, Dubai also has plans to launch high-speed hyperloop transport. But before Emiratis start moving between cities in minutes, they'll be able to avoid urban traffic thanks to suspended pods that'll carry them over congested roads.
https://www.bloomberg.com/news/videos/2021-06-08/making-roads-safer-with-connected-vehicle-data-video 
Richard Barlow, CEO and founder at British automotive-data startup Wejo Ltd, discusses how his company gathers data from connected vehicles and uses it to gather information on traffic patterns, unsafe roads, EV infrastructure design and fleet management. He also explains the decision to take the firm, backed by General Motors Co., public through a SPAC merger and if he is concerned about hackers targeting their data. He speaks with Emily Chang on "Bloomberg Technology." (Source: Bloomberg)
https://www.itsinternational.com/its4/its5/its6/news/sensor-equipped-trams-now-florence
Smart trams are running in the Italian city of Florence as part of the Elastic smart city computing infrastructure project.
Under the European Union-funded programme, sensors have been installed on three trams in the city's transit system, in a bid to improve connectivity between infrastructure, public transportation and private vehicles.
The devices include cameras, inertial measurement units, radar and Lidar. The data they create is combined via artificial intelligence processing with data from three tram stops which are also equipped with sensing equipment.
Just how smart is Sony's AI?
Sony Europe teamed up with Italian energy company Envision to run "smart city" trials in Rome. When all the pieces of the three trials are connected, this project's goal is to cut down on traffic gridlock, reduce pollution, keep pedestrians safe, and also avoid overcrowding on Rome's public busses. How will it work? Let's take a look.
Aviva set to trial autonomous vehicles to help build future insurance model
Aviva plc (a leading UK insurer) and Darwin Innovation Group have entered into a five-year strategic partnership that includes the trial of an autonomous shuttle service at the Harwell Science and Innovation Campus in Oxfordshire, UK, to enable Aviva to gain a better understanding of the risks and challenges posed by autonomous vehicles from an insurance perspective.
EXCLUSIVE: The UK plan for CAVs and what you can learn from it
Isobel Pastor, head of the UK's Centre for Connected and Autonomous Vehicles (CCAV) will be live, in conversation with TTi editor Tom Stone, this Thursday 10th June at 2:30pm BST (9:30 EDT, 15:40 CEST).
The focused, 20-minute online interview entitled Shaping the safe and secure emergence of connected and self-driving vehicles in the UK is completely free to attend, all you have to do is register your interest and log on using the link provided at the correct time.
https://www.intelligenttransport.com/transport-articles/125449/tula-its/
Lessons from Moscow to roll out intelligent transport systems in Tula
Aleksandr Polyakov explains how intelligent transport systems (ITS) recently rolled out from Moscow are not only making Tula's streets safer, but also decreasing the amount of traffic and congestion in the Russian city.
https://www.autoevolution.com/news/an-autonomous-truck-is-gathering-data-for-volvos-ai-based-transport-solution-162351.html
Volvo is playing an important part in the development of alternative solutions that will make transportation more efficient, more sustainable and a lot safer. Besides introducing next-generation electric trucks on the market, the company is also paving the way for autonomous transport solutions. A pioneering commercial project has recently been launched, as a first step towards a future automated supply chain.